Plan Your 2022 Holidays Now!
Posted by SUMMER YANG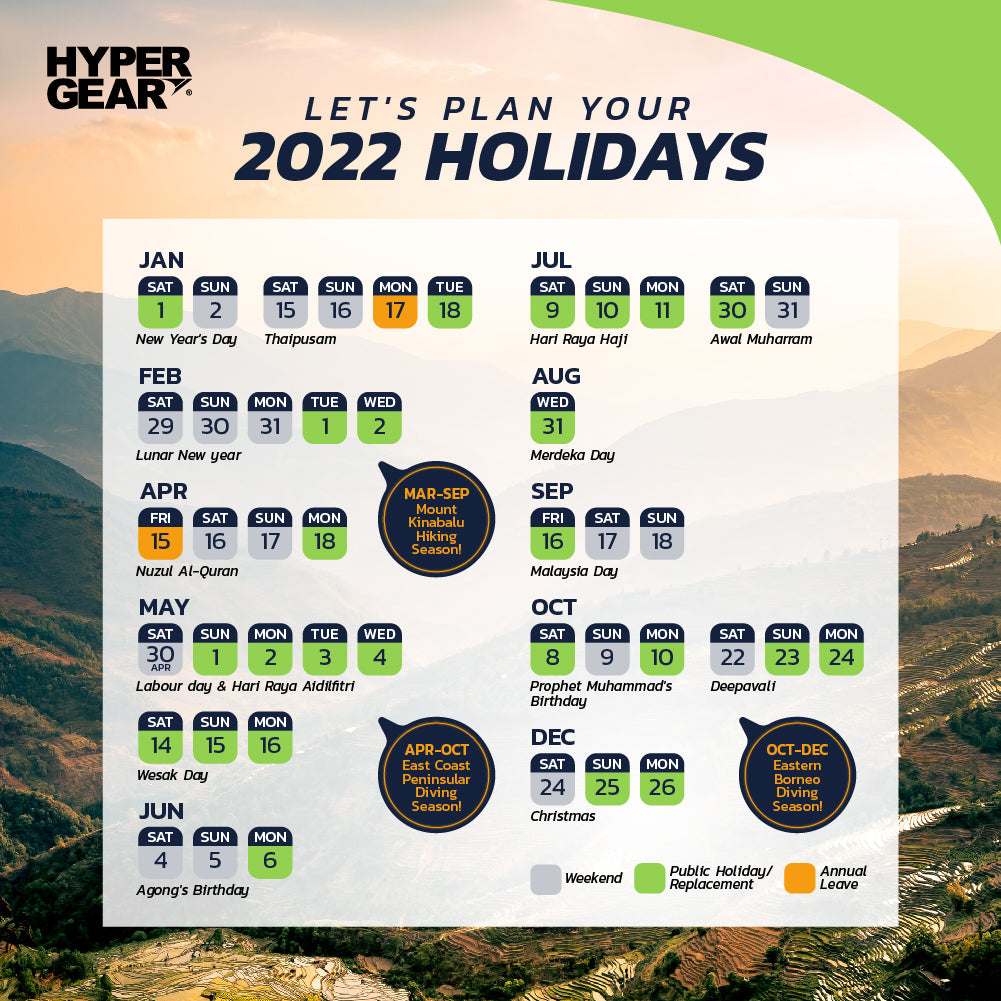 It's that time of the year again. Time to clear your work leaves and enjoy a long weekend until 2021 before work starts again. After the parties and cheers when the clock strikes midnight, it's time to get back to work for another year - just like clockwork.
Isn't it tiring? Saving all work leaves just so you can enjoy it at the end of the year and then, poof! Back to work again. Don't dread to clear your work leave like this year again. Start planning your work leave now and plan exciting adventures with your friends and family this year! To help you make 2022 a blast, here's our 2022 Long Weekend List to help you plan for an adventurous year!
So many weekends to fill with adventures, you're probably running out of ideas. We gotchu covered! Here's some recommendations to put into your list in your long weekend getaway!
Short Getaways
Short getaways are definitely known for unexpected road trips and wild last-minute plans. A short runaway from work to take a breather from continuous work and conference calls. Since it's a brief getaway, just like you, we definitely want to plan for something that does not take too much traveling or effort just to prepare for the trip. We recommend a trip into nature and just detox yourself by breathing in as much fresh air as possible. If you're up for it, you can even visit places that have limited reception to completely detach and detox yourself from technology… especially to prevent your boss from calling you :D
You can try:
Hiking up Broga Hill

Camp in Gopeng Glamping Park

Visit Bukit Tinggi, Bentong and Raub for Waterfalls and enjoy Durian

Cool down at Sungai Tua, Ulu Yam
Short getaways dates: 
1st until 2nd January

14th until 16th May

4th until 6th June

31st August 

16th until 18th September

8th until 10th October 

22th until 24th October 

24th until 26th December 
Long Weekend Holidays
Now, long weekend holidays are definitely a time of new experiences and adventures. You should plan for enriching experiences that you never thought you would try. There are many things you could do on a long weekend. So, pack up your things into your Hypergear waterproof bags and let's go for an adventure!
You can try: 
Road Trip to The Southernmost Tip of Asia Mainland, Johor

Take Diving Courses to become a Scuba Diver

Camp Out and Conquer Mount Kinabalu

Long getaways dates: 
15th until 18th January

29th January until 2nd February 

15th until 18th April

30 April until 4th May
Make the most of your time-off next year filled with many fun exciting adventures. Have an idea where you're going next year? Tell us about it! For more information, subscribe for more articles like this!
#hypergear #hypergear malaysia #waterproofexpert #GearedForHyperLife
Collection 2019
Sale 70% Off
Title for image