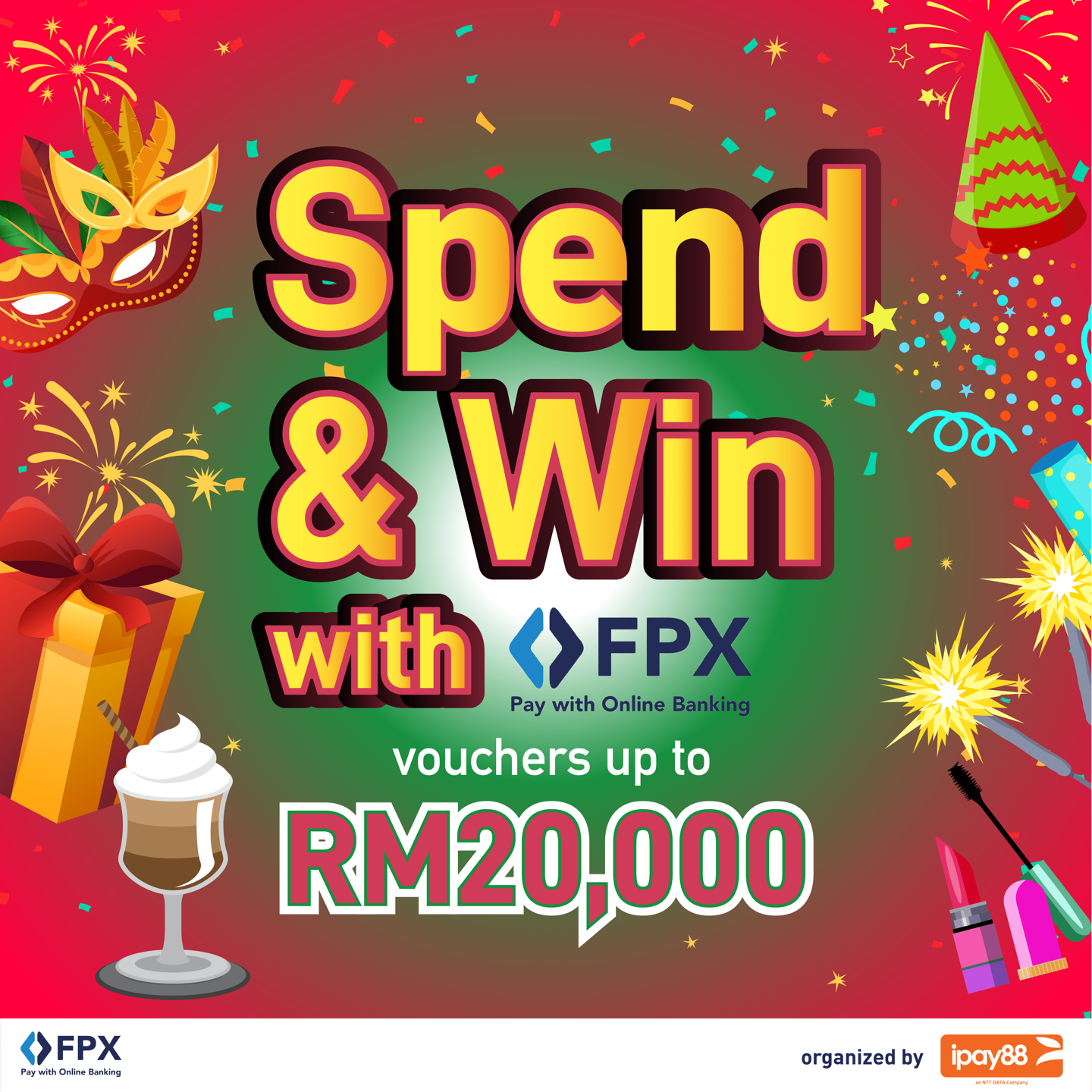 How can you win?
1) Shop between 27-31 December 2021.
2) Spend at least RM50 in one receipt.
3) Check out using FPX (Online Banking).
4) The more you shop, the higher the chances of winning a prize!
iPay88 will select the winners in a lucky draw and the winners will be contacted via e-mail and/or phone to claim the prizes..

[Spend & Win with FPX]
TERMS AND CONDITIONS
Organiser & Qualifications
1. "Spend & Win with FPX" ["Campaign"] is organised by iPay88(M) Sdn Bhd. ["Organiser"] (Company No.:200001019210 (521817-M)
2. The Campaign is open to online banking users in Malaysia. The above-mentioned Campaign participant must be 18 years old and above and a permanent resident in Malaysia or a Malaysian citizen who has a valid identification document/card during the Campaign Period ["Participant"].
Campaign Period & Entry Criteria
1. This Campaign will be executed in two phases:
Phase one: 26 November – 30 November 2021, 00:00 – 23:59 (GMT+8)
Phase two: 27 December – 31 December 2021, 00:00 – 23:59 (GMT+8)
2. Note: Only transactions using FPX aka online banking will be accepted for this Campaign and must be made within the Campaign Period as set out in this Terms and Conditions. Entries received beyond each stipulated Campaign Period will be deemed invalid and will be forfeited.
3. The Organizer reserves the right to amend, extend or terminate the Campaign at its sole and absolute discretion without prior notice.
4. A minimum purchase of RM50 and above in all participating online merchants with the usage of FPX (aka online banking) as the only mode of payment made within the stipulated Campaign Period are entitled to be accepted as a valid entry ["Proof of Purchase"]
How to Participate :
Each valid and complete entry must contain the following information:
Make a purchase online with a minimum amount of RM50 at the participating online merchants using FPX (online banking).
Successful FPX transaction within Campaign period.
Note: Valid purchase worth RM50 and above (in a single transaction slip) will be given ONE (1) entry
5. Every ONE (1) transaction (with purchase of RM50 and above made FPX (online banking) entitles to participate in the lucky draw.
6. Each Participant (if selected as a Winner) is only eligible to win ONE (1) Prize during the Campaign Period.
7. Prizes are not exchangeable for cash.
8. Winner will be selected based on the following process:
At the end of the Campaign Period, Winners will be selected at random by an automated selection system (lucky draw) based on the total number of valid entries during the entire Campaign Period.
Campaign Prizes & Redemption
1. 100 Winners per Phase will be selected to win RM200 vouchers from the participating merchants with a total of 200 Winners selected throughout the Campaign Period.
2. A total of twenty thousand ringgit (RM20,000) worth of vouchers to be won each Phase and a total of forty thousand ringgit (RM40,000) worth of vouchers throughout the Campaign Period.
3. Prizes are subjected to the terms and conditions set by the supplier (if applicable). To the extent permitted by law, the Organizer and its agents are not responsible for all liabilities, losses and damages arising from any deferment, cancellation, delay or changes to the prizes details or any unforeseen circumstances beyond the reasonable control of the Organizer and for any act or default by any vendor or third party supplier.
4. The Organizer shall not be liable for any loses or damages which occur during the prize redemption process.
5. All decisions made by the Organizer in connection with the Campaign including but not limited to the selection of Winners and the Campaign Prizes are final, conclusive and binding. Any correspondences, inquiries, appeal or objection from the Participant shall not be entertained.
6. Selection of Winners will be carried out by iPay88 within 60 days after Phase Two and informed to the relevant merchants.
7. iPay88 will contact the winners via e-mail and/or phone to claim the prizes won.
Rights of the Organiser
1. By participating in this Campaign, the Participant gives their consent to the Organiser to publish and use their names, and images submitted by the Participant/Winner (if any) for advertising, marketing, publicity and/or any other purpose in any medium, without any prior notice nor compensation to the Participant/Winner. Participant/Winner shall not be entitled to claim ownership or other forms of compensation on the materials.
2. If for any reason this Campaign is unable to proceed as planned for (and not limited) reasons such as computer virus, hacking, unauthorized intervention, fraud, technical failure, or any other reason beyond control, the Organiser reserves the right, in its sole discretion, to revoke, terminate, modify, or suspend this Campaign.
3. The Organiser at its sole discretion may remove and/or disqualify any Participant and/or entries if found or suspected of cheating/hacking/tampering with the Campaign submission process, the operation of this Campaign or in violation of any Terms and Conditions of the Campaign.
4. The Organiser reserves the right to amend the Campaign Terms and Conditions at any time at its sole and absolute discretion without prior notice.
5. In addition to these Terms and Conditions, any other order or rules of the Campaign as stated at the web www.ipay88.com or otherwise, shall also bind all participants and their participation in this Campaign.
6. In the event of any inconsistency between these Terms and Conditions and any terms contained in any promotional materials for this Campaign, the terms and conditions contained at www.ipay88.com shall prevail.
7. By participating in the Campaign, the Participant give their consent to the Organiser or any third party appointed by the Organiser to process the Participant's personal data for the purposes of this Campaign.
8. The Organiser would like to alert the Participant to take reasonable precautions when receiving any phone calls or messages requesting for your personal information(s) during and/or after the Campaign. The Organiser would also like to advise our valued Participant to call Organiser's helpline for verification regarding the Campaign.
For more information please visit https://www.ipay88.com/campaign/spend-win-with-fpx-tc/